Picture Sizes for Social Media
Before we get into what size your original picture should be, let's take a look at the sizes needed for different social media platforms.  Whether you use Facebook, Twitter, Pinterest, Google+, LinkedIn or YouTube, you want to make the most of the real estate offered by profile picture, timeline covers, etc.  So, here's a quick rundown of the main dimensions you should be aware of.  We will go into more detail for each platform, later, in individual posts to help you make the most of each social media account that you have.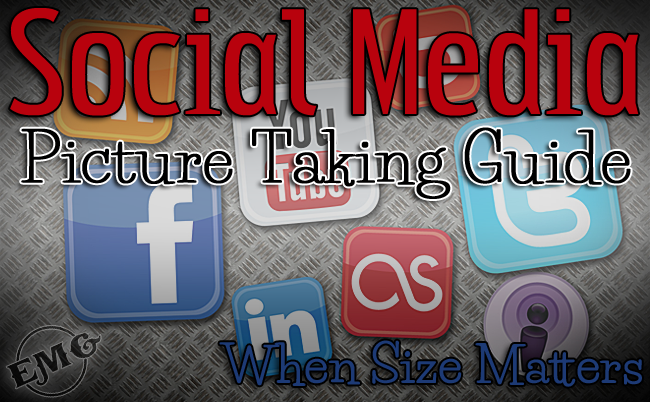 Facebook Image Sizes*
Timeline Cover:  851 x 315 pixels
Profile Image:  200 x 200 pixels
App Images:  111 x 74 pixels
Twitter Image Sizes*
Background Image:  2000 x 1200 pixels
Profile Image:  81 x 81 pixels
Brand Banner:  520 x 260 pixels
Pinterest Image Sizes*
Profile Image:  160 x 165 pixels
Enlarged Pins:  735 x Auto Adjusted pixels
Google+ Image Sizes*
Cover Photo:  2120 x 1192 pixels
Profile Photo:  270 x x 270 pixels
LinkedIn Image Sizes*
Profile Image: 200 x 200 pixels
Company Logo: 100 x 60 pixels
Company Cover: 646 x 220 pixels
Company Square Logo: 50 x 50 pixels
Services Page: 100 x 80 pixels
YouTube Image Sizes*
Cover Art:  2560 x 1440 pixels
Safe Area:  1546 x 423 pixels (this is the minimum viewing area for all devices)
Best Original Picture Size for Social Media
Looking at all of the dimensions above, where does one start with the proper picture size for all platforms?  I really lean toward the saying "Go Big or Go Home" when it comes to original picture sizes.  Whether it's a logo, vector or photograph, bigger is better.  Larger pictures can easily be scaled down.  Smaller pictures are not to friendly for re-sizing.  Stretching them too far will ruin their quality.  So what's the minimum?
YouTube seems to have the largest width in a cover area.  It comes in at 2560 pixels.  So, I would say to start with pictures, or images, that are at least 3000 pixels wide.  This allows you a few hundred pixels for cropping and re-sizing when you need them for other platforms or on a blog.  Keep in mind that some platforms do require you to upload an image that is the exact dimension specified.  Pay close attention t the guidelines given on each platform.  We will, again, touch more on this in upcoming posts.
If you save a large original (high resolution) picture you will be set for all of  your branding and social sharing needs.  Generally, your original image should be 300 dots per inch (dpi).  This will be best for printing and re-sizing.  As you re-size and save the picture you can change your resolution to lessen the file size.  For use on computer only, 72 dpi is ok.  For printing at home, 150 dpi will work just fine.  For commercial printing and photo printing you will want 300 dpi  images.  More detail on this is to come.
If you need a high resolution head shot or product photo, a logo designed that will carry across your brand, business cards, a vehicle wrap or other marketing materials created…we can do all of that and more.  Contact us for a consultation and we will help you with all of your marketing needs.
*correct sizes as of 1/7/2014