Everyone Has an Opinion About How to Boost Blog Traffic
When talking to someone knowledgeable about blogging, the internet and social media, you will get a wide range of information about how to boost your traffic.  Many people will try to tell you that you have to pay for some sort of service or more in-depth advice.  RUN AWAY!  While the immediate info might be broad and varied, there are some very simple and practical tips to boost blog traffic.  Most of these will work for just about any site, not just a blog.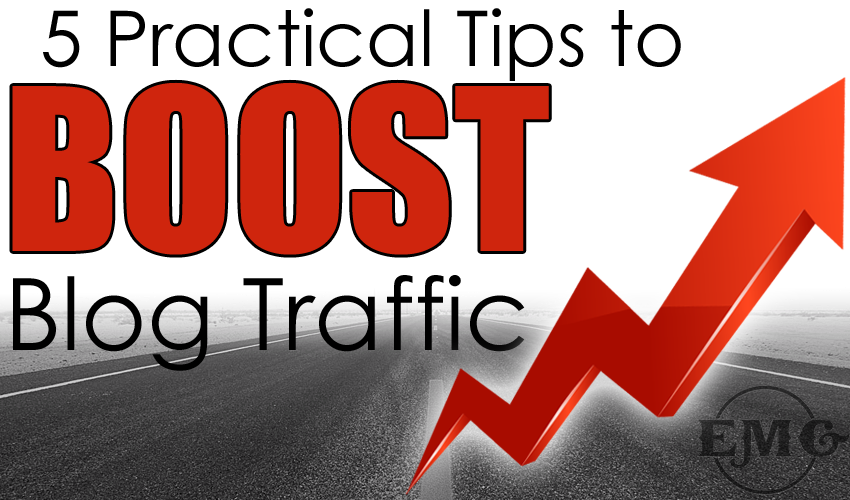 The 5 Practical Tips to Boost Blog Traffic
1.  Join Pinterest and contribute to group boards.  If you aren't on Pinterest yet, you should be.  Blog posts with large, good quality photos or graphics are great.  When you can pin them and make them even more shareable, they're even better!  Group boards are important because collaboration means you'll reach more readers. Since multiple bloggers work together, these boards have larger followings, often in the thousands.  Pinterest is overtaking most other social media platforms for driving traffic.  This is especially true if you are pinning recipes, crafts, DIY projects and/or amazingly cute baby photos.
2.  Automate Social Sharing and maximize your time.  If you're on Facebook, Twitter, Pinterest, Google+, Instgram and LinkedIn (or others) then you already know how much time it can take to share on each and every network you use.  Even just a few minutes each can quickly add up to many hours per week.  The good news is that you can automate much of this process through platforms like HootSuite.  You can run your RSS feed through the program and it will automatically share new content to your preferred platforms for social media sharing.  You can also manually post to multiple networks or schedule posts for future dates and times for the best practice and time savings.  There are other platforms that can accomplish the same thing, it's just a matter of personal preference.  Each has their own limitations may require a monthly fee for full feature access.
3.  Comment on other blogs.  This is a great way to network and be seen.  You want to start by choosing blogs similar to your own.  Staying within your niche is a way to build a great network to work within.  Once your start networking you can build the interaction and eventually you may guest post on other blogs or work together to cross promote for a brand or event.  If other bloggers love your content then readers will as well.  Bloggers can be picky and critical but it's all for the greater good.  Experienced bloggers know what it takes to build traffic.  Get under someone's wing and learn all that you can.  When commenting on other blogs, make your comments relevant.  Nobody likes spam and you definitely don't want to be THAT blogger.
4.  Link up!  When you have a great giveaway or event, list it on sites that are made for this purpose.  They work FOR you and many offer free services.  Your event will be promoted to thousands of fans.  Make sure that your contest or event is well laid out, terms are clear and nobody is left guessing.  Important details are a clear prize description, retail value of your prize(s), start and end dates, who is eligible to win and if there are any limitations.  There are sites just for linking up giveaways, Twitter parties, Pinterest hops and more.  Google is your friend.  Also see where other bloggers are linking up.  Bloggers are always talking and if you're listening you will pick up on some true gems!
5.  Get listed!  Take advantage of listing your blog directories and review sites.  There is a list of these that is a mile long.  What is effective for you will not be effective for everyone.  It will depend on your niche, audience and writing style.  Four great sites to get started on are Blog Lovin, Crunchbase, Reddit and Digg.  Be sure that you read their terms, learn how they work and ask around for best practices.
These practical tips to boost blog traffic are something that you can use whether you are a part-time blogger or want to make the push into professional blogging.  They will  not all prove successful for every blogger.  Know your niche, know your audience and – most importantly – write, write, write.  Content is king and ultimately is what keeps readers coming back again and again.
If you're looking at this list and thinking "Where do I find the time?"  We can help!  One of our favorite things to do, is to help you free up time to keep doing what you love.  Let us help you with these practical ways to boost blog traffic.  Contact us for a consult and be on your way to better blog traffic.