In case you're hoping to market only to seniors and other more seasoned adults, here are 5 Tips for Marketing to Seniors…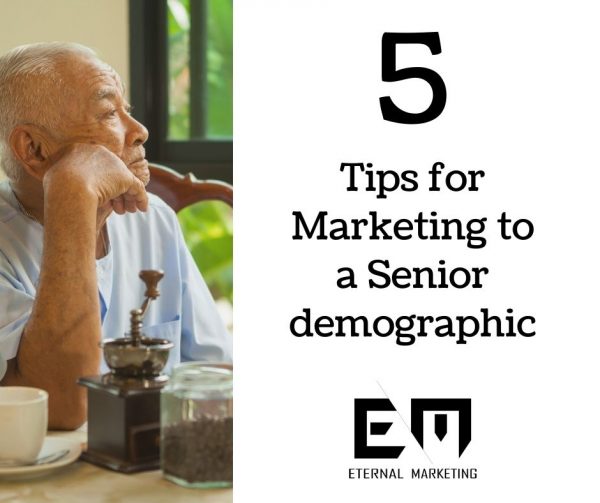 5 Tips for Marketing to Seniors
Be clear with regards to what you're asking them to do. Do they need to purchase a ticket? Attend a business pop-up? Sign up for a church small group? Be super clear on what you need your more established customer base to do.

Watch your language. Other than staying away from rough or crude language, try to utilize words and terms that the majority of people will understand. When explicitly focusing on seniors, try not to use language or slang that would be understood exclusively by twenty to thirty-year-olds. Instead, use basic examples in your copy.

Market on different channels. Try not to restrict your marketing campaigns to only one type of media platform; utilize all potential channels to reach as many individuals as you can. Radio, Television, Direct Mail, and Social media.

More often now than ever, seniors are using more than one social media platform. There are still a few that use just one, but now many older citizens are using every platform their kids are on. Regardless, tailor your message to each channel. For instance, use eye-catching pictures on all channels but write posts that can be customized for each channel.

Try not to think small with the senior demographic. Some advertisers inaccurately assume that seniors' kids will be making purchase decisions for their parents. More established seniors are free and feel that they need to make decisions for themselves. Making decisions provides a sense of independence and they prefer to do their own research when possible. When writing your copy talk directly to them instead of their kids.
Need help crafting a marketing plan to reach seniors for an event, church, or non-profit organization? Give us a call! Contact us today at 865-816-9864. 
From promoting Southern Gospel events with Praise 96.3FM to customizing marketing campaigns for a Senior Home Assisted Living company, we have years of experience customizing campaigns to reach our East Tennessee Seniors.