Does your church have individual ministries?  Do you have annual events?  Do you struggle with having somewhere that people can go to get information, see photos, purchase tickets and share the details?  It's time to consider building a website or designing a landing page for each ministry and event that your church has.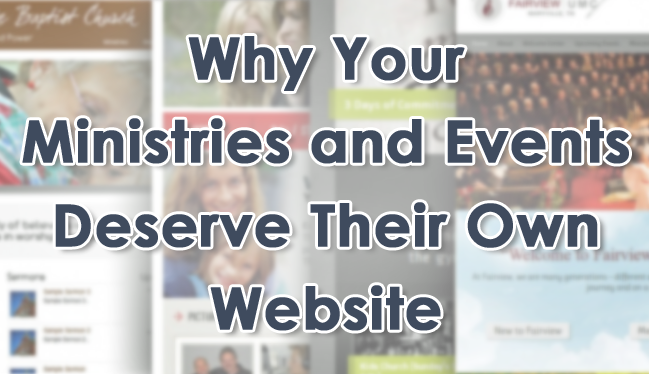 Why Your Ministries and Events Deserve Their Own Website:
You will have an easy to remember domain name (.com/.net/.info) – Gone are the days of needing to send folks to a site address like yourchurch.com/events/2017/October/FallFestival/Pics.  Who wants to remember that?  Instead you can have something like FallFest2017.com and give people easy access to all they need to enjoy your event. Set up your consultation today.
One central place showcase all your information. – When an event is held away from your church where can people find directions?  Will there be food?  Is it a potluck?  What about parking?  What time does it start and end?  Do I need tickets?  Save time and shorten announcements by directing everyone to your customized website for your event.
Not everyone is on social media. – Some people simply aren't interested in social media.  Some find it overwhelming.  Some just don't understand it.  How will this group of people know where to find things like shared pictures?  You are missing out on reaching many by choosing social media as your only focus for sharing events.
Build excitement. – Show regular attendees that your ministries and events aren't just church as usual.  Videos, music, photos and more will draw them in and help them feel what you're about.  Plus, they can easily share the URL with their family and friends.  We will incorporate share buttons to help make it easy for folks to share the info directly to their friends and family.
It's affordable. – If your usual method is the long web address with flyers and a newspaper ad, having a custom website built will save you money.  You will have a site that is alive forever.  It won't disappear from memory like a newspaper ad.  It doesn't have to be clipped, copied or carried around in pockets.  Keep your site for as long as a year (maybe more) for about the same price as a large newspaper ad that people will forget as soon as the paper is closed.  Keep in mind that many people don't even subscribe to a newspaper any longer.  There's no need when they can find all the details online for free!
Sell tickets or products online. – Will attendees need tickets?  Will you have shirts, hats, stickers, etc that can be purchased?  Giving people an easy way to make  purchases, online, will guarantee more sales for you!  No check writing or cash carrying.  There are no lines to wait in.  With just a few clicks they can have their tickets, deck their family out in matching t-shirts and grab a meal voucher all at once.  It really is that easy when you let us build your custom site.
So, what are you waiting for?  Contact us today and we will help you build a customized, easy to navigate website or landing page for your ministries and events.
Don't pass by the opportunity to reach a whole new group of people that are looking for the information you have!  View our portfolio to see examples of the work we have done for others.