The premier, of Season 5, of The Walking Dead was on October 12th.  If you're on social media, at all, you are sure to have seen/heard something about it.  It's everywhere!  That means it's great for business!!  Why?  Because it's everywhere!!

We are halfway through this season and it's still everywhere!  Each week, people post Facebook statuses, share memes and tweet about The Walking Dead.  Thousands of shares, likes, retweets and comments happen each and every week.  Why not get in on the action?
Even if you're not a fan of The Walking Dead, you can still get plugged into the hype.  Look at Hyundai.  They had the opportunity to get one of their vehicles into the show.  It was a getaway car.  They went for it, on a whim, thinking that The Walking Dead would burn out after a season or two.  Wrong.  Dead wrong.  Hyundai's VP of marketing, Steve Shannon, said they couldn't come up with enough social media contests and promotions.  They have even unveiled a zombie edition to one of their vehicles.  They also have given away Shane's green Hyundai!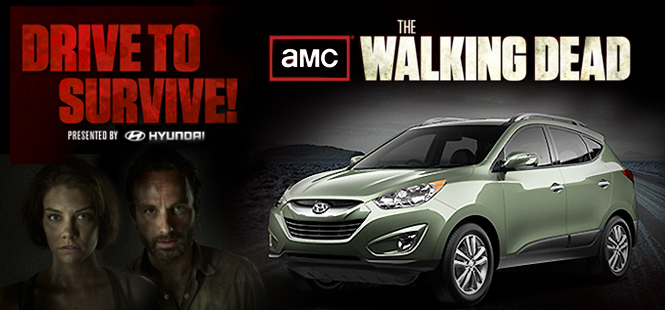 From asking fans to suggest upgrades to zombie cars, to creating a zombie-related app, Hyundai has done a bang up job when it comes to their relationship with The Walking Dead.  Have you seen the Hyundai Chop Shop app where you create your own vehicle?
There are even memes circulating.  But you don't  have to be a show sponsor to see the impact.  The social media reach, alone, is enough to tempt businesses into adding a #TheWalkingDead to their tweets or updates.  Think of the eyes that will see what you're selling.  But there's a catch, you have to do it right.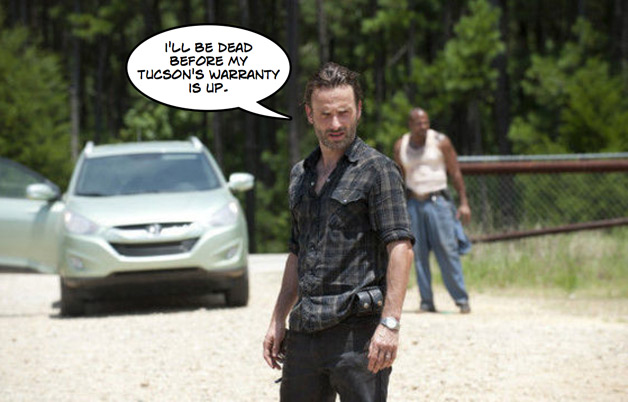 Whether you are a florist, or a mechanic, you can tap into the power of The Walking Dead, especially on social media.  Create images, ask questions, interact with your customers and followers when they comment or share your information.  Offer discounts, play The Walking Dead trivia and offer prizes and deals for winners.  No matter what your business is, you can tap into the power of The Walking Dead in a number of ways.  If you just can't see how or need a little help with wrapping your head around the creative aspect, contact us.  We're glad to help you use The Walking Dead to keep your business alive!