Managing your self-hosted WordPress site means more than keeping it looking good.  You want to be sure your site is secure and functioning properly.  The easiest way to do that is to keep WordPress up to date as well as updating your themes and plugins on a regular basis.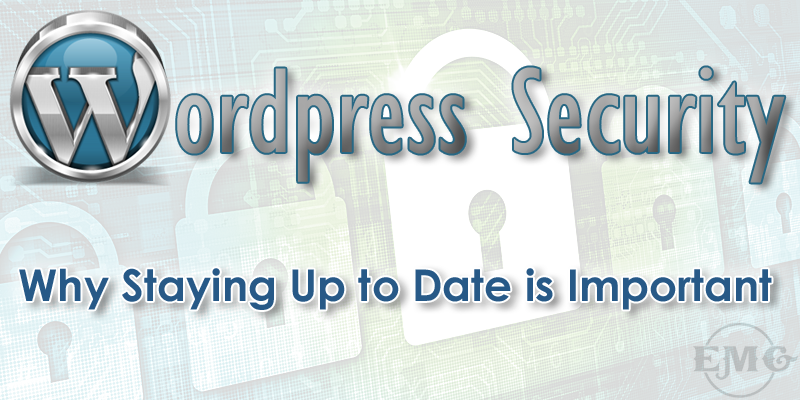 How do I know when something needs to be updated?
You can find this in your WordPress admin dashboard.  On the top ribbon, and the left sidebar, you can see the total number of updates that are available.  You may also see separate notifications when plugins, or themes need updates.  Here's a quick look.  If you do not see these notifications, you're up to date already.  Good work!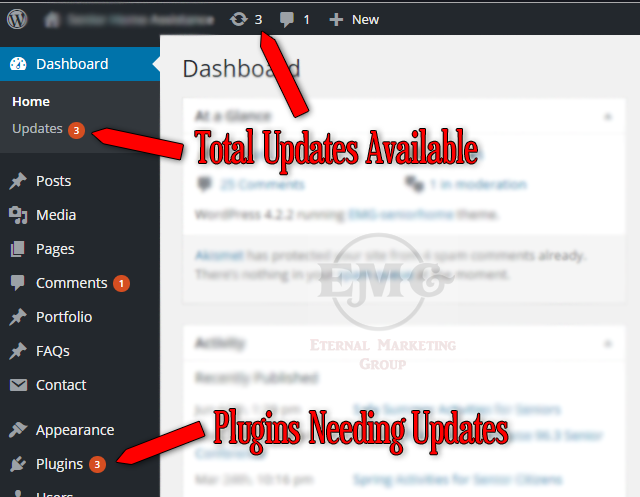 Clicking on either of the total updates available will take you to the update dashboard where you will see a list of available updates.  This can vary, depending upon how long ago you last updated.  First, make sure WordPress is updated.  Next, check your themes.  Finally, check your plugins.  This order is important to be sure that all things work together for the good of your self hosted WordPress site.  There is also a button to click to refresh the page and check again, for updates.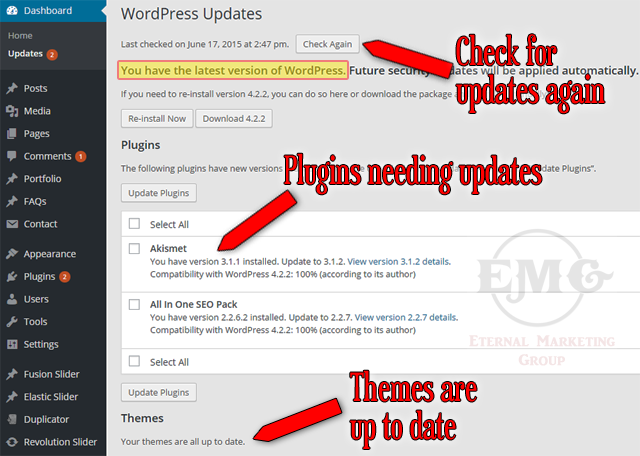 Should I update as soon as I see the notification?

It is your best bet to update as soon as you can.  Some folks like to wait until all the bugs are worked out.  While, that's generally an ok idea, it's not always in your best interest.  Bugs, or issues, like interrupted functions or plugins that conflict with one another are not going to place your site at risk.  Not updating WordPress, themes or plugins CAN place your site at risk.  Many times, updates are pushed out to fix security issues.  Other times it's to improve function.  It's always better to be safe, than sorry, when it comes to the security of your website.
What are the risks of not keeping my site up to date?
There can be many risks to not keeping your WordPress site updated.  Mainly, your site may be left wide open for access by hackers.  Here's a brief list of some things that can happen when your site is left vulnerable to hackers:
Passwords are no longer secured
Your site can be redirected
Hackers can edit your HTML
Your site can crash and be inaccessible
Your site can be erased
There are many risks when it comes to leaving  your WordPress site vulnerable by not performing regular updates.  It's just not worth it.  The minor headaches that may come with update are nothing compared to the dangers posed by security issues.
Feeling a little unsure about updating?  Overwhelmed at the thought of maintaining these details on your self hosted WordPress site?  Let us help!